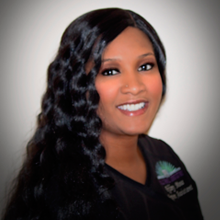 Tiffany Moss
Insurance Coordinator/Certified Dental Assistant
I am a certified Dental Assistant here at Leesville Dental Associate. I attended Fortis College, where I received a diploma in Dental Assisting. During college I had the opportunity to come to the office for my interns which lasted 12 weeks.
I was hired as a hygiene assistant. I have been employed at Leesville Dental Associates for a little over 5 years. I've had the pleasure of assisting both Dr. Walls and Dr. Jess and have recently been promoted to Lead Dental Assistant. I am also the hygiene assistant when needed.
I am the mother of two wonderful boys, Cameron (10) and Eason (6 months). My spare time consists of shopping or spending time with my family and friends. I enjoy dental assisting but most of all I enjoy doing it at Leesville Dental Associates.